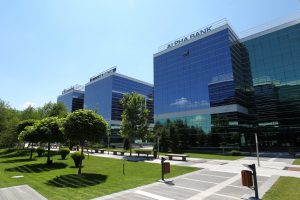 West Gate office park, owned by Genesis Property, extends the lease agreement with ALPHA BANK by the end of 2026.
ALPHA BANK started its activity in West Gate in 2008 and currently occupies 7,700 square meters in the office park from the west side of the city.
"ALPHA BANK is a very important tenant of West Gate Business Park, which has contributed from the very beginning to the development of this business hub. The extension of the leasing contract for another 8 years, compared to the initial 10 years term, is a validation of our efforts to provide the best services to a prestigious banking institution", said Liviu Tudor, president and founder of Genesis Property.
ALPHA BANK ROMANIA belongs to one of the largest financial groups in Greece, Alpha Bank Group, with over 140 years of experience in the financial and banking sector.
ALPHA BANK was the first foreign bank to have come to Romania since 1990. The bank offers a wide range of banking products and services for individuals as well as complex financing solutions for corporations.